Racket Bar
There's very little about Racket not to love, let's just be honest. But let's begin at the beginning… in case you're wondering where to find this little alley alcove, park yourself at Britomart Station (up top in the courtyard of course!), spy the monolith of 1885, start walking and follow the noise. Look down the alleyway on your right and you've found it. Perfect.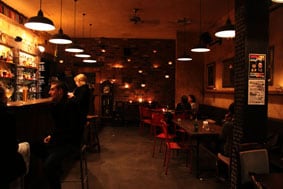 The first thing you'll see is the daily updated one-liner on the chalkboard. They never advertise specials, just smart-alec humour. In fact, it's the same kind of humour that you find all over their website which is definitely worth some "work break" amusement time.
The super-fun little brother bar of Agents & Merchants (with a shared bar menu), Racket can consistently be relied on for music (mostly DJs and occasionally live) on any day of the week. That made it an obvious choice as we were in the mood for dancing.
Racket boasts perhaps one of the finest rum selections in Auckland and, they would contend, New Zealand. At least, on display for public consumption and purchase (mine aspires to be that extensive but isn't on offer to anyone)! They also do a great job with whisky (win me over…) and have a great selection of pricey (well, what did you expect?) cigars complete with alleyway seating to smoke them in.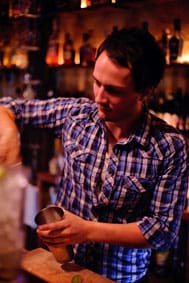 One of my favourite things about Racket is Adam, he's made me several drinks before and every one has been well-balanced and rich in flavour. There's a good selection of beers to keep the boys happy unless they're brave enough to move on to the hard stuff and lots of pretty drinks too.
On this particular night, my wing woman was ordering the round, whereupon she pronounced me to be a whisky-lover and a bit of a snob when it comes to cocktails. Nothing like setting a young man a challenge, ay? But here's what I've learnt.. there's no better place to enjoy a little sassiness than at Racket! A sassy little whisky number was delivered to my hand, along with Adam to explain it! Pride in his work, brilliant. Oh, and the drink was too. Swoony, I tell you.
To be fair, a lot of the staff who do or have worked at Racket holler from far yonder shores, mostly associated with the Commonwealth. Some of Auckland's really talented young barmen have done time behind the bar here before moving on. So, you'll hear a lot of accents and well… the Welsh aren't popular.
Dancing feet were itching, so we took to the floor.. and let's be fair – there was Awkward Persistent Guy, along with Weird Touch Your Face Guy all trying their slickest moves on the dancefloor for our amusement. But hey, when you're at Racket you need to take everything a little less seriously.
Racket Bar, 6-10 Roukai Lane, Britomart
– Tash McGill, Bar Scene Babe