The Food Store, created quite a stir in the Viaduct when it opened. Here is our tasty food blogger, Victoria Davy's, take: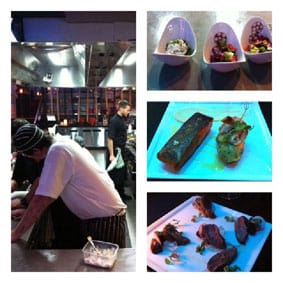 I first learnt about The Food Store as I was fast-forwarding through the ads on the Food Channel.  Up pops a tattooed bloke, gesturing wildly (I was fast-forwarding) with the viaduct in the background.  I rewound, sat through the whole ad and said to The Man, "We have to go there" and 5 days later we did.
The Food Store is the brain child of Julie Christie (CEO of Eyeworks) and was open for its 30th night when our dinner group passed through its groovy red doors into a chic, modern, white restaurant, with hip young staff and gorgeous views of the water.  The 'piece de resistance' which caused us to pause and gape is the open kitchen that runs along the back of the restaurant where the chefs prepare your order, completely accessible and transparent to us all.  If that isn't a good enough view there are TV screens covering their every move so you can watch your culinary masterpieces being created. This place and oozes COOL.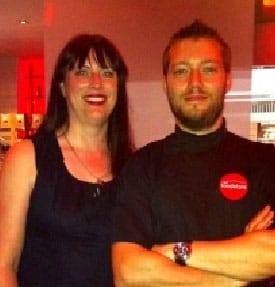 The two stars of the show are Wylie-Dean Hodgkinson – (tattooed bloke) who has a long illustrious career including a stint in LA as Chef to the Stars.  Some previous clients include Sylvester Stallone, Ashley Judd (The Man was impressed) and Mickey Rourke (pre-plastic surgery Mickey, that is).  And Mark Southon who trained in several Michelin Star restaurants (read impressive) in Europe and worked in  the  Melbourne scene before coming to New Zealand.  Here, he is better known for his time at The French Cafe.
The menu and the wine list celebrate all things New Zealand.  It's a very balanced and exciting menu where all dishes can be ordered in starter or main size.  The five of us ordered 10 dishes to share and chose our own wines (I had the Moet).   We gobbled our way through smoked venison, octopus Carpaccio, Akaroa salmon, pan fried haloumi cheese and aged rump steak to name a few.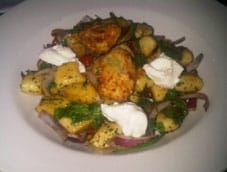 We 'oooed' and we 'ahhed', we loved every dish but the unanimous 'surprise winner award' (an award we made up of course) went to the Potato & Goat's Curd Gnocchi with cherry tomato, basil, pistachio and rocket.   This dish was deeply tasty; the gnocchi was light and worked well with the pistachios and rocket.  There were also some delectable crumbed baby artichokes on top but the cherry tomatoes were a winner … sweet, smoky, slightly dried and made my mouth zing.  How can you take something I have in my fridge and create such flavour?!
We also had every dessert on the menu including a huge cheese board (I love cheese).  Again we 'ooohed', we 'ahhhed', we 'ooohed' some more (probably a bit louder this time as the wine was kicking in) and all were dee-eee-lish!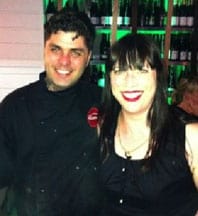 Wylie-Dean gave us a tour of the kitchen including detailed descriptions of every shiny contraption we laid eyes on and, along with Mark, spent time sharing with us their vision for The Food Store.  These guys are passionate and quite evangelical about what they are creating here.  We were almost swept away by the tsunami of their excitement (thankfully we were held down by our full tummies!).
Pop this link www.thefoodstore.tv in your Favourites as the guys have some innovative projects about to be released.
Firstly, Home Meal Replacement: This will allow you to select anything you like from the menu. The food will come pre-prepared and gorgeously packaged but not completely cooked so you can finish off at home and 'abracdabra', you have gorgeous restaurant quality food on your table.  What a great idea for an impromptu dinner party.
Secondly, The Interactive Cooking Table: This is where you and your friends can join the chefs in the kitchen and can cook anything you'd like.  You can choose from The Food Store menu or even bring in your own recipes.  You then get to dine on your own creations.
As I watched Wylie-Dean on the Food Channel, he said "We are not in the business of cooking dishes, we are in the business of creating memories.  If you do something right, it's the memory of that dish that lives on in someone's mind.  That's how you know you've hit your mark."    Well, The Food Store team, you have certainly hit your mark.
Food price guide:  Starters $21.00 – $25.00, Mains $32 – $38.00, Dessert $12.00 – $14.00
The Food Store, Market Square Viaduct Harbour, phone 09 3770125