Metro Magazine has voted The Grove as number one restaurant for the second year running. Read our review and drool…
The Bloke and I recently had dinner at The Grove. It was a chilly Auckland night but Thursday parking was good thanks to a sneaky spot outside The Den Adult Concepts on Wyndham Street, which leant all sorts of connotations to The Bloke's idea of the evening as he didn't know where exactly the restaurant was. It's not in there! It's on the newly rennovated St Patricks Square behind St Patricks Cathedral further up Wyndham Street.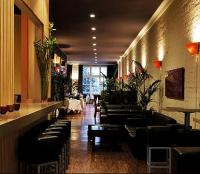 Owner and chief sommalier (award winning actually) Michael Dearth greeted us at the door and one of his staff took our coats. The long narrow restaurant has windows over Albert Street at the far end and that was we were to sit. Their speciality is wine matching with the amazing food that chef Ben scoots out of the kitchen, so we wine matched away.
First course for me was yellow fin tuna sashimi with whipped avocado and a little 'canelloni' of, I think, rice paper wrapped around some avo and maybe a little cucumber (to go with the whipped cucumber froth garnish). The plate was dotted with teeny flowers which I gobbled up. It's their signature dish, they said, and I'd recommend getting that autograph again (!) It was divine – and perfectly matched with the 09 Hans Herzog Heavenly Sevens from Marlborough. It seemed to burst in my mouth like a puff! The food that is.
The Bloke went for seared scallops on a little tasty risotto of pink potato, crab and morels (what are morels?) Tasted awesome anyway and I know this for I leaned across and tried it. His was matched with a Marisco Pinot Gris also from Marlborough.
Then out came the mains: pork belly and loin for me (I had made a bit of a deal about asking if there was crackle. Not exactly crackle said our waiter, but it is crispy. Verdict: I'd call that crackle. Just not your crazy crackle look, but definitely crunchy and just what I fancied.) It was also served with 4 slices of tender loin and presented with tiny little meals dotted around. Teeny petit pois (yes peas) and little stacks of this and that with more flowers. We ordered brussel sprouts. I know, what were we thinking! but they were delicious fried with a little bacon and onion, and the winter gratin which was cauliflour and cheese. My last bite (my best bite) was so good I didn't want it to end. Although chewing on pork belly till morning might not be so nice. This was matched with a delicious 06 Mt Difficulty Pinot Noir.
The Bloke went for a steak. Correction: Beef fillet with smoked potato puree, blonde beer and endive marmalade. It was excellent and he declared, in few words, it to be "tender". Sorry, that's all I got. It was matched with an 02 Kemp Road from Hawkes Bay and lo, there was room for dessert.
I was sold on the handcrafted souffle, which last night was passionfruit (my absolute favourite flavour) and served with homemade icecream. It arrived puffing out of its ramekin still piping hot and was delicious – although I did give half away across the table. The Bloke had the Cheescake which was deemed melt-in-your-mouth. But I said mine was. We didn't make a scene.
We had no room for coffee although a little plate of petit fours arrived which almost tipped me over the edge (a wafer thin mint sir?)
I can see why The Grove is #1 in Auckland right now and I'll back. When I am flush with funds.
Entree, main and dessert for 2, plus 2 glasses of wine each = $260.
For the rest of Auckland's Best Restaurants, as selected by Metro Magazine 2011, click here >>>