Most New Year's resolutions are about losing weight, getting that dream promotion or giving up some unbeneficial habits.  But my husband and I (gosh I sound like the Queen) and some fab friends decided that in 2011 we are going to eat our way through all of Auckland's degustation menus.  Maybe a resolution for 2012 will be losing weight??
We started with gusto at Meredith's on Dominion Road, Mt Eden Valley.  This is not the first time I have been to Meredith's, and I love it.  The black exterior hides an intimate and subtly classy restaurant, separated into three dining rooms.  The restaurant seats 40 people, which makes one feel like one of the lucky people who got in.
Meredith's opened in October 2007 and is the creation of the blushingly cute, Michael Meredith, who made his name at The Grove.  (See review of The Grove here >>>)
On Saturday and Sunday evenings they only serve their degustation menu and there's normally a waiting list.  Tuesday to Thursday they serve a limited a la carte menu as well as two different tasting menus that look divine and we will be back to try.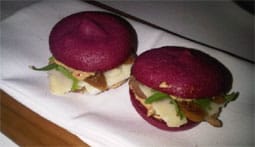 We arrived and were warmly greeted and seated by Anna where our waiter for the evening, Brad, took over.  Brad is professional, delightful, very knowledgeable about the menu and the wine and never seems to stop moving.
Meredith's degustation is 7 courses starting with smoked duck and beetroot meringue perfectly paired with Chateau Belingard Monbazillac 07 from Bordeaux.  It's not usual to have a dessert wine for an appetiser but it perfectly complements the sweet meringue.  When I see beetroots at the green grocer and ponder "What to do with them?"  I do not see this dish!  The light and fluffy beetroot meringues become the hamburger buns of the dish with the duck filling in between.  This was Michael Meredith's personal pick of the menu, playing on the "traditional Kiwi experience – just like eating a hamburger" (in his own words, of course!).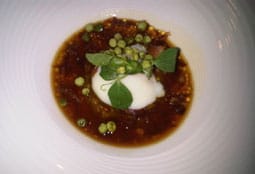 My personal favourite dish was described as 'Hen's Egg, Ham and Pea'.  I was excited to see what they would do with such simple ingredients and was not disappointed.  Out comes a large white dish with ham-hock stock and tapioca floating around the bottom, topped with a boiled egg.  And not just any boiled egg, this egg is boiled for 50 minutes at a precise temperature of 66˚C … such love for an egg.   On top of said
egg are freeze-dried peas (apparently there is only one bloke in New Zealand who has the technology to do this – who knew!), crispy ham bits and pea shoots.  The flavours were deep and rich and made my palate sing.  The 09 Valli Old Vine Riesling in its dry style was a contrasting pairing designed to cut across the saltiness of the dish, which I personally liked.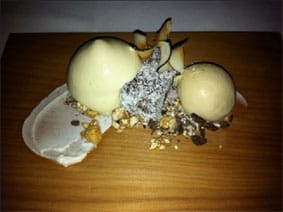 We then journeyed our way through five more savoury dishes (including a gorgeous cerviche) before the menu concluded with a loud crescendo described as 'dark chocolate, banana, cashew and coconut', such an understated description.  This dish is sublimely matched with the  Milton Clos Samuel Viognier 07 from New Zealand's first certified organic wine maker, James Milton of The Milton Vineyard.  This creation comes out on a wee rimu board designed by Michael (is there nothing he can't do?!).  It has a coconut reduction swished over the bottom, topped with peanuts, chocolate and more chocolate gorgeousness.  It is accompanied with a banoffe foam,  banoffe ice-cream and other artistic creations .  The banoffe foam is like a banoffe pie wrapped up in a cloud – de-ee-vine!
If the food, wine, ambiance and professional staff weren't enough, Michael came out to meet us and have a wee chat  – crikey he really is cute.  The entire evening was delightful from beginning to end. We ate for over three hours and left completely stuffed and content.
Degustation for two $220.00 and wine pairing for two $140.00.
Meredith's Restaurant, 365 Dominion Road Mt Eden Valley.  Phone 623-3140.
– Victoria Davy