We rolled into town on Friday night, three blonde beauties (moi and the gal-pals) with one brave lad! We'd heard about the upstairs bar at Tyler St and figured we ought to check it out at least once before the chill of winter really sets in. Just one question – would the view of the ports under a clear night sky be worth the westerly blowing?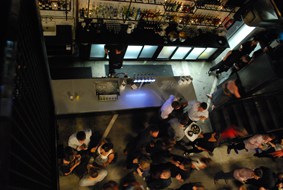 Tyler St Garagehas a distinctly Manhattan feel to it, the industrial-minimalist look has not been used sparingly, if you know what I mean! The "sleek, gritty urban" feel of this Britomart bar was suitably dark and moody for a blustery Auckland night .
The ground floor bar was busy but not overwhelming – the menu is comprised of tapas (small plates), pizza, gourmet hotdogs (a concept I first fell in love with from a streetcar in Manhattan!), platters and desserts. The kitchen is open from 11.30am and I would definitely recommend checking it out for a working lunch. The plates appearing from the kitchen (open til 11pm, what a score!) smelled and looked delicious.
But the roof, the roof! We wanted to get upstairs to the centre ring of this circus. Well – surprisingly small and limited to 50 people at a time (we were counted off by the doorman), the roof was cosy with outdoor seating, some greenery and the extremely necessary heaters. The view does sparkle so long as you don't look too far down and realize that the Ports of Auckland are still… well, what can you say? With rows of imported Japanese cars stretched out on the wharf beneath. We're in Auckland, baby!
Disappointingly though, the upstairs bar is limited to wines, beers and standard mixers. The lad bought a round of merlot in those lovely Italian-styled tumblers then led us downstairs again – I'm thinking that rooftop will be great in summer or around lunch, FYI.
Once downstairs, I braved my way over to the main bar for a squiz at the cocktail list and drinks cabinet. The cocktails are all lovely twists on classics, with popular flavours like honey, clove and pomegranate going on. I was almost tempted by the punch – it's just one variation as opposed to the Golden Dawn's ever-changing concoction but here you can buy it by the jug, just like sangria or the "Tyler St Lager".
However, I spied a fulla I'd been talking to at the local a few weeks previous. He used to work at Julep, in Ponsonby – which happens to be one of the Lewisham nominees this year. I made a beeline for him and asked him to make me something great. The Ramos Gin Fizz delivered.. it's not on the menu but a double hit of lemon and lime was right on the money. Plus, in a relatively busy bar he took the time to make a twice-shaken cocktail. That's service.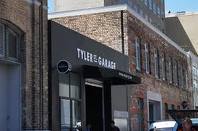 Here's my tip:if you're brave enough for the suits, check it out for a tapas dinner on a Friday night then pick a moment at the bar to ask for something a little special. Take a big group because the space downstairs can be cavernous. Otherwise, if you need an excuse to cuddle and share body warmth, choose a relatively still night and head upstairs!
– Tash McGill, aka the Bar Scene Babe