Alex Swney is right. People don't come to Auckland from Hawkes Bay to drink wine, or from Nelson for our beaches. They come for an urban experience. I reckon they also come to shop, but that's another story because last night was the launch of Auckland Restaurant Month.
Organised by the team at Big Little City, they have an excitable 61 restaurants on board with big gun chefs as well as the little guys. From July 28th to August 14th, 2011, Auckland city will be a gastronomic gala of dishes made especially for the event from your favourite eating haunts, and a few you may not have yet darkened.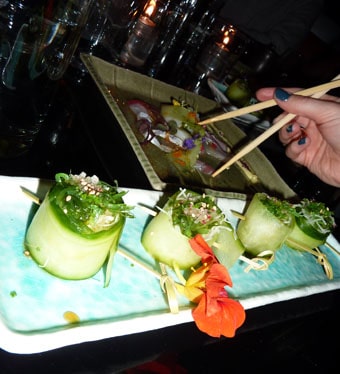 The good thing about it is that there at set prices to cater for the budget-conscious through to those who don't know what a budget is. Three price points: Under $20, $21-$30, Over $30.
So last night we hob nobbed at three different venues on our literal three-course culinary journey through the heart of the city. Britomart is the new Black in Auckland right now and Ebisu, sandwiched between Tyler St Garage and Precinct Cafe on Quay Street, was our starting point for their delicious modern Japanese cuisine. I melted at the melt-in-your-mouth sashimi of tuna, salmon, kingfish and hapuka. Thinly sliced raw scallop was also a hit, as were the marinated seaweed bites and a yummy misu to warm up our chilly cockles.
It was a media meat market as we made eyes with Petra Bagust and her husband Hamish Wilson, radio couple JJ Feeney and Dom Harvey, Jay Reeve, Ray McVinnie, Danny Watson and a few editors I made an unashamed beeline for. After the first course was inhaled and the killer cocktail (created especially for us with bacardi, passionfruit pulp, lime juice and mint) was slurped like a fizzy, taxis were summoned and off we went to the next secret.
Kermedec was the "institution" part of the evening where main courses in the toasty warm brasserie were either duck confit with toasted hazelnuts and brussel sprouts (ME!), roasted hapuku on clam chowder (my Plus One) or pumpkin risotto for the vegies among us. Delicious!
A cheeky pinot noir later and the taxis were again waiting, this time to wisk us off for our final surprise: Dine by Peter Gordon where we'd get to taste four desserts at our white-clothed tables after a palate-cleansing cocktail made by Luke Dallow to launch his new Red Hummingbird bar. We then tasted Dine's signature dessert Coconut Tapioca served cold with mango and passionfruit and an avocado and yuzu sorbet. It really is good! Our table's fave though was British/Aussie celebrity chef Sean Connolly's chocolate orange tart. The Providores and Tapa Room created a banana and azuki bean stuffed coconut rice fritter which was like a sticky donut and quite delicious and Dine's Chocolate pot de creme accessorised by an outstanding caramelised white chocolate cream was our 4th dessert – each accompanied by a sticky wine. Taxi!
Check out the dates for the next  Auckland Restaurant Month here.