If you live in Auckland and haven't been to the Auckland War Memorial Museum (for that is its real name) for a while, then you have no excuse now.
The "donation" of $10 has been removed for all locals (upon proof of address) as your rates are officially recognized as helping the museum's coffers. Out-of-towners will still be asked for the donation and special exhibits will still levy a charge for all-comers.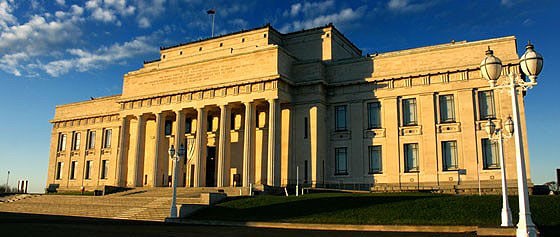 I was last at the 150-year old museum on ANZAC weekend to watch Peter Jackson's WWII movie projected onto the outside wall. We sat in eerie silence as the old black and white footage stiltedly played, giving us a fly-on-the-museum-wall view of life in the trenches and on the front lines at Gallipoli. It was great, but could have done with a soundtrack I thought.
Anyhoo, this is a gorgeous building. Arguably the best in the city (the Town Hall or High Court might try and rival it). It is majestic with sweeping views across the harbour. It commands a respect that we seldom give our public places. That could be because it was built to be beautiful – unlike the glass high rises that make up the rest of Auckland's cityscape.
Take visitors to the Maori Culture wing which has authentic cultural performances every day – and you don't have to be a tourist to appreciate it. You'll find over 1000 pieces of significant Maori taonga (the largest collection in the world).
If you have kids take them to the Weird and Wonderful Stevenson Discovery Centre. It's full of touchy feely experiential exhibits, dead bugs, live bugs, fossils and amazing facts to astound little people.
The museum also houses two sombre halls of memory where the names of all those killed in major conflicts in the 20th century are remembered, like Scars on the Heart – the history of New Zealand at war; the Holocaust Gallery – the story of New Zealand's Jewish refugees and the Colours gallery which is all about the dual history as both a museum and a war memorial.
For more information on up coming exhibits, click here.