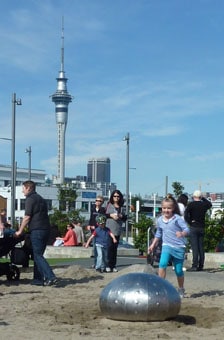 The old tank farm has been spruced up down on North Wharf and Aucklanders have found a new urban playground. Quite literally.
The kid's playground has kiwiana-themed objects like sea eggs and big iron shells filled with sand to crawl through. Things spin and swing and can be climbed on and instead of that dreadful black rubber or sawdust chip that so many playgrounds are covered in, this one is sand. Genious.
There's a basketball court – well more like a single hoop and several colourful lines painted on to the concrete, ala American cool kids style.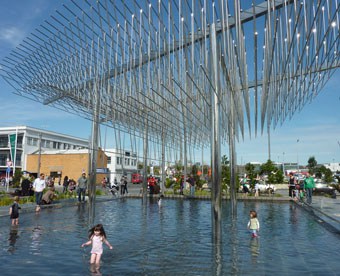 Walk past the steel windcharm thingy to the old fish market which on a sunny day was serving a queue of people $7 fish n chips or squid n chips in a little paper funnel. I thought this was good value, but heard from friends at one of the other, new and fancy cafes opposite that indeed food prices are set at RWC standards. In other words, unless you're bringing your Euros, bring a picnic.
The tram from Melbourne is a pretty touch although completely pointless to my mind. For $10 per adult it goes around the block. That's it. A 1.5km circuit down Jellicoe St, Halsey, Gaunt and Daldy in 15 minutes.
If it went over the bridge (which is now down) to Te Wero Island and therefore opened up the Viaduct and even made an attempt to get punters nearer to Britomart, I could see the benefit.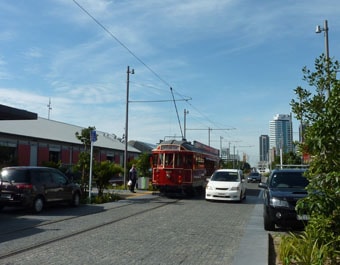 But aside from that silliness, the cobblestoned street it tootles down (which, by the way should be pedestrianised and ban all cars that are only driving along to be nosey) is lovely and that opens onto the new Viaduct Events Centre which went off during the Rugby World Cup. Huge wooden loungers are rolled into place and new steps have been built down to the water beside Emirates Team New Zealand's yacht base which make a perfect lunch spot in the sun.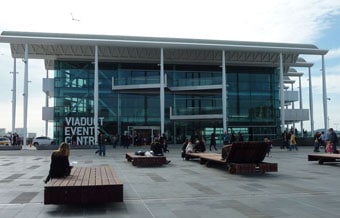 The new restaurants were still being frantically completed when I was there, but look to be ethnic in origin – a curry house (Urban Turban), Japanese (I Sushi & Yakitori) and by the looks of the round tables with white cloths and lazy Susans, a Chinese restaurant is on its way. There's 10 new restaurants in all, including a gelato cafe (Gelatiamo) and bars including one in the Old Red Shed with views over the fishing boats and the new promenade.
The whole project was started 7 years ago and this promises to be the next great hot spot in Auckland.
Check out more info here on Waterfront Auckland >>>