A visit to Auckland is best done accompanied by a glass of the local nectar and if time is precious, then a day on Waiheke Island is the place to do it!
The sparkling Hauraki Gulf is dotted with islands and the largest is Waiheke, inhabited by 8000 people and home to 20 wineries that roll gently over its lush green hills. It takes about 30 minutes by ferry from downtown Auckland to Matiatia where a bus, taxi or even car and scooter rentals are your ride into Oneroa, the tiny heart of the island about two kilometres from the ferry terminal.
Here you'll find cafes with tables spilling outside to drink in the views of the many bays and beaches that surround the island. Boutiques, homeware and souvenir stores vie for attention alongside antique shops and a small grocery store.
Browse along the main street, sit down for a flat white coffee and plan your wine tasting day, because the options are plentiful. Or better yet, book a bach (local holiday home) make a weekend of it.
Five wineries to visit…
If you have a car then a trip out to Man O War Bay should be on your list. It's about a 30-minute drive across the island, bumping over dirt roads and hills affording stunning ocean views, to a private bay where boaties pull up in summer to drink the famous wines and nibble on the equally famous lunch platters.
Don't expect a full restaurant with tables covered in cloth, instead it's a casual affair for friends and families to make their selections at the cellar door, then sit at an outside table under an umbrella while the kids play cricket on the lawn and when the tide is in, they can swim.
Another family-friendly winery, Passage Rock knows how to keep the children entertained so the adults can get on with the serious business of wine tasting. The wood fired pizza oven will keep everyone happy and while the kids are bouncing on the trampoline or in the sandpit, you can sit back at an indoor or outdoor table among the vines and enjoy the day.
Their reserve Syrah is the most awarded wine on Waiheke with 18 gold medals and six trophies. The bistro is open only on weekends in winter.
Mudbrick's exquisite gardens have been nurtured for 25 years and are the first wow that ensures visitors get their cameras out. Herbs and edible flowers mingle with cleansing teas and a formal design that draws you up from the car park. The restaurant offers local New Zealand flavours and stunning views, but for a more casual experience, the bistro, next to the cellar door and gift shop, spills outside onto the gravel path and is great on a fine day picking at small plates and trying their wines.
Located a stone's throw from Mudbrick, visitors to Waiheke for just a day often choose these two. The energetic can even walk from Oneroa, about twenty minutes away (or two minutes by car).
Relax under the white canopies on the veranda with groovy lounge music and a bottle of Rose, or sink into a beanbag on the huge lawn that rolls down into the view of Auckland city. For something really special, book for lunch or dinner in The Dining Room. They also often have live music and events inside and outside in their sculpture garden.
The drive along the peninsula to this winery is part of the enticement for coming out here. The restaurant and cellar door look down over Waiheke's Kennedy Point or across the Hauraki Gulf back to Auckland, for spectacular 360-degree views. This is a small family-run winery with a big reputation for Chardonnay (which you can only buy in their restaurant) and a Bordeaux-style Cabernet Sauvignon/Merlot called The Point.
Getting here
Take the 35-minute ferry from downtown Auckland to Waiheke.
Cost NZ$36 return per adult, $18 per child, $98 family.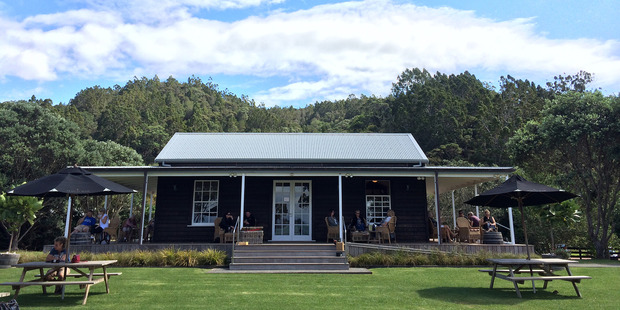 This post first appeared in Mabuhay Magazine for Philippines Airlines