---
Fancy a little Mexican?
I'll be the first to admit that my knowledge of all things Mexican is limited to a very shaky rendition of Ricky Martin's Living La Vida Loca at karaoke bars. I did have an authentic Mexican dining experience once, just outside of Orange County, California; a great little place wedged firmly between a drycleaners and a half deserted strip-mall. Thanks to a genuine tequila experience, that's about as specific as my description gets.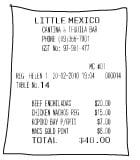 Wellesley Street's Little Mexico Cantina does a ripping trade in real deal Mexican grub – not to mention stocking over 50 different brands of tequila. The waitresses have mastered the genuine South American Sashay and they'll give you a good once-over before recommending the spicy dish option. It's the best place to head for a pre-gamble tipple before heading across the road to Sky City; a little Mexican courage and all that.
Little Mexican Cantina, 29 Wellesley St W, Ph +64 9 366 7001
– Luke Oram, Guest blogger

Recommended Posts
August 08, 2016
November 26, 2015
November 19, 2015