Do you remember the olden days when a hotel or motel would advertise it had a spa and you'd get there find they meant a spa pool! And how we were thrilled with the idea that you got the key from reception, let yourself into a fenced-off area and wallowed in bubbling water with strangers. Well thank goodness New Zealand caught up with the rest of the world and now we know what a spa is!
Auckland's newest and best spa has opened at the Langham Auckland. I know the superlatives are true because I had a 3-hour treatment there (for professional purposes you understand!) Chuan Spa is the Langham spa brand and is based on the 5 Chinese elements: wood, fire, earth, metal and water.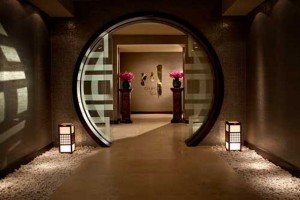 Chuan means 'flowing water' and you should arrive early so you can take advantage of the watery pre-spa options: the snail shower with jets firing everywhere; an ice station where shaved ice falls into a huge bowl that you cover yourself in to freeze your yin; and the herbal steam room to heat your yang (or something like that).
I stayed overnight in one of the new Chuan Havens after my decadent 3-hour Five Element Rebalance. This started with a foot soak, then a muscle-melting hot bath with Thalgo sea salts to swish around. Then an hour and a half's stone massage which included hot and cold stones. Then it finished with a foot and calf massage and pedicure from which I emerged sporting siren red toenails.
My therapist had come here from Cape Kidnappers spa in Hawkes Bay and turns out we went to the same school – albeit a generation apart!! She told me some funny stories too – like accidentally massaging Tom Jones's fake tan off before his concert at the Mission.
My haven – conveniently located just across the hallway so I could toddle in fluffy bathrobe – had a huge flatscreen TV in the bedroom, another in the lounge, snacks awaiting me and an infinity bath that lured me for even more relaxation. We'd had a lot of rain in Auckland so I didn't feel toooo guilty about filling the tub until it overflowed into infinity. Ironically, having positioned the TV so I could watch it from the bath whilst eating chocolate covered strawberries. I was watching CSI when, ironically/spookily, they discovered a dead body in a bathtub.
It did make me wonder how long it would take to be discovered. But I'm happy to report, I'm still here.